Erin Harris
Organizer
I'm an American neuroscientist in UCC studying how biological sex affects susceptibility to stress-related depression. Outside the lab, I love singing and enjoying a pint of cider. Looking forward to sharing some science in the pub!
Kirsten Harold
Organizer
I am a post-doctoral researcher at APC Microbiome Ireland. As a nutritional scientist, I am studying how diet modulates the connection between our gut and brain. Love food and science! Excited to be part of the PoS team!
Minal Jaggar
Organizer
Neuroscientist and science outreach enthusiast, curious about everything. I study how the bacteria in the gut controls mood. My motto: Assume Nothing and Question Everything! Looking forward to some science discussion over pints.
Francesco Floris
Organizer
Born to be a physicist, I obtained a PhD in Physics at the University of Pavia (Italy). I am currently working at Tyndall National Institute in the Photonics Packaging Group dealing with Research and Development related to Photonics Nanotechnologies.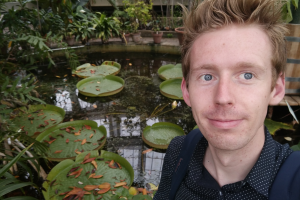 Kevin Shortiss
Organizer
I'm currently a PhD student in the integrated photonics group in Tyndall. I've been studying a method of filtering wavelengths of light, by shining lasers into one another. When I'm not in the lab, you'll probably find me sitting around a board game.
Sandhyarani Analakkattillam
Organizer
Applied Chemistry postgraduate with a specialization in pharmaceutical chemistry and 8 years of experience in Pharma industries as an Analytical Chemist/LIMS trainer. Besides science, I love traveling, crocheting and watching movies.
Sarah Nicolas
Organizer
I am a junior postdoctoral neurobiologist at UCC. I'm here to explore the role of the gut microbiota in the influence of our environment on the development of cognitive disorders! Science lover and beer drinker, can't wait to meeting you during a PoS event in 2019!
Simon Spichak
Organizer
Canadian neuroscientist and casual barista. Studying the role of gut microbes in early brain development during the day, and film enthusiast by night. Like good coffee, I believe that science is something that needs to be shared!